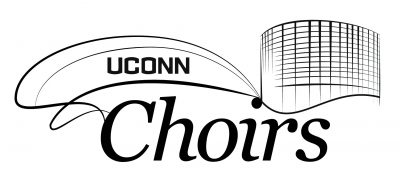 7th Annual Brothers Sing On! Festival
Saturday - October 12, 2019
8:30am – 5:00pm
Hosted by the UConn Glee Club
Calling all singing basses and tenors! – Don't miss the opportunity to be part of something BIG, The UConn Brothers Sing On! – Bass/Tenor Choir Festival. Bass and tenor singers from throughout the Northeast will come to UConn's von der Mehden Recital Hall to join together with singers from the UConn Glee Club, Concert Choir, The Silk City Chorus and a cappella groups for a day of singing and sharing. We have a SPECIAL guest this year as Mr. Bekhani Buthelezi, director of choirs at the University of Zululand in South Africa will be in residence at UConn for one week and spending the day with us. Mr. Buthelezi is an esteemed and award-winning director who will work with the Brothers Sing On! Festival Choir on traditional South African singing and help us create much joy together. This event was created to celebrate men singing together and to help reinforce the joy of singing and recruiting of bass and tenor singers into high school as well as church and community choral programs. There will be performances by the UConn Glee Club, UConn's outstanding male a cappella groups, The Silk City Chorus, and the UConn Brothers Sing On! Festival Choir. This is an event not to miss!
We look forward to singing with YOU!
To register:
For individual singers, please complete the registration form linked here.
For schools sending a large number of singers, please e-mail an Excel document or Googlesheet with the following columns:  singers last name, singers first name, voice part, t-shirt size, director's name, and school name, to UConnChoirs@uconn.edu with Brothers Sing On in the subject heading.
Also, please send a check made out to UConnChoirs with $15.00 per student attending to:
UConn Choirs
Brothers Sing On
University of Connecticut
857 Coventry Road. Unit 1012
Storrs, CT, 06269
Schedule of the Day
8:30-9:00am
Registration in vdM - Participants change into Brothers Sing On! T-Shirts
9:00-10:00am
Joint Rehearsal in vdM

Combined Sections:

Brothers, Sing On! - Edvard Grieg - CPP Belwin - 00-FEC06927
Cover Me with the Night - Andrea Ramsey - Alliance - AMP 0766
The Music of Living - Dan Forrest - Hinshaw - 08764729
UConn Alma Mater - Old Connecticut - Davis (sent to directors)

10:15-11:20am
Sectionals

T1 - MusB 109
T2 - ML 103
B1 - vdM
B2 - MusB 102

11:30am
On risers in vdM
12:00-1:15pm
Lunch on  your own - Storrs Center (see list below)
1:30-2:15pm
Sectionals (same rooms as before)
2:15-3:00pm
Rehearse on vdM stage - Final run through
3:00-3:30pm
Voice Master Class with Rod Nelman in MusB 102 (sound check for Glee Club)
4:00pm
Grand Finale Concert

Prof. Rod Nelman - Bass Baritone
Silk City Barbershop Chorus - Todd Lamson, Director
UConn Glee Club - Joshua East, Director
UConn Conn Men
CDN - A Completely Different Note
Brothers Sing On! Festival Chorus Finale - Dr. Jamie Spillane, Director
Nearby Restaurants
Moe's Southwest Grill – This is like Chipotle
Froyo Frozen Yogurt
7 Eleven
Dog Lane Café – organic, interesting, salads to sandwiches to burgers
Subway
Insomnia Cookies
Moo-yah Burger – (like Five Guys)
Geno's Italian Restaurant – Coach Geno Auriemma's restaurant
Husky Pizza
Barnes & Noble Café
Tea & More Café – Asian- rice bowls etc…
Toasted – sandwich shop
Katmandu Kitchen – Indian  $10 lunch buffet
Grill 88 – Sports Bar
Blaze – Fast Fired pizza (like Subway for pizza – gluten free pizza available)
Bruegger's Bagles
Jamba Juice
Dunkin Donuts
Gansett Wraps – wraps, pizza, & more
Chang's Garden – Chinese
Starbuck's
Oriental Café – Chinese & Sushi
Pho Asian Restaurant –  Chinese
DP Dough – Calzones
Little Alladin – Mediterranean food
University Pizza (New Haven Style pizza)
Bonchon – Korean
Wingstop – fried chicken and wings
Price Chopper – Grocery Store with many prepared foods (Sushi, Pizza, Subs, Chicken, and a dining area)