About
MUSI 1110 section 002
Monday & Wednesday 2:30 p.m. - 4:30 p.m.
Friday 2:30 p.m. - 3:20 p.m.
The Symphonic Band consists of music majors and students from throughout the university campus who are selected for membership by audition. The band performs music written for full wind band including compositions from current contemporary wind and percussion music to transcriptions of standard orchestral literature that have been adapted especially well to the wind band. This band presents two or more performances in each semester including concerts at locations around Connecticut. Recently performed repertoire includes works by Aaron Copland, Darius Milhaud, Vaclav Nelhybel, Malcolm Arnold, and David Gillingham.
Ricardo Brown, MEd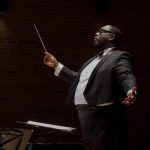 2022 Performances
Spring 2022
Symphonic Band & Concert Band
Thursday, March 3, 2022
8:00 p.m.
von der Mehden Recital Hall
Symphonic Band
Tuesday, April 26, 2022
8:00 p.m.
von der Mehden Recital Hall
Spectrum Concert
Thursday, April 28, 2022
6:00 p.m.
Jorgensen Center for the Performing Arts
Friday, April 29, 2022
8:00 p.m.
Jorgensen Center for the Performing Arts