Undergraduate Students
1. Submit an application for admission to the University of Connecticut.
Applications may be obtained online at admissions.uconn.edu or from the Admissions office at the address and phone number below. Please be sure to indicate your intention to enter the School of Fine Arts as a music major.
Admissions Office
University of Connecticut
2131 Hillside Road, Unit 3088
Storrs, CT. 06269-3088
(860) 486-3137
2. Fill out Music Form to sign up for an audition 
Please Note: Due to the uncertainty of the COVID-19 Pandemic, Auditions may be pivoted to an online format at any point. At the current moment, the UConn Department of Music is planning on in-person Storrs campus auditions for the below dates.
Saturday, December 10th, 2022
Friday, January 6, 2023
Saturday, January 7, 2023
Friday, January 13, 2023
Saturday, January 14, 2023
Audition for Matriculated students
We will also be hosting a virtual audition for Matriculated students on August 25th for students who wish to become music majors for the Fall 2022 semester. Students wishing to participate in this must submit a youtube video recording of their audition materials to music@uconn.edu by Thursday, August 25th at 4:00 pm. Guidance on what is expected of these videos is below.
Video Audition Guidelines 
Required Format:  YouTube video under an unlisted link with access granted to anyone who has  the link. (This may require creating a YouTube account.) 
Video Details: Make sure your hands and the upper two thirds of your body are visible in the  frame; please do not allow a music stand to block the view. Please see the  audition requirements for your instrument on our website. Please state your name and your repertoire at the start of the recording. 
Submission Details:  Send an email with the URL to music@uconn.edu, with subject line including  your name and instrument or voice type.  
We regret that students who are not successfully admitted to the Storrs campus may not pursue a degree in music.
For Questions about your audition or our program, please contact:
Eric Rice, Department Head
or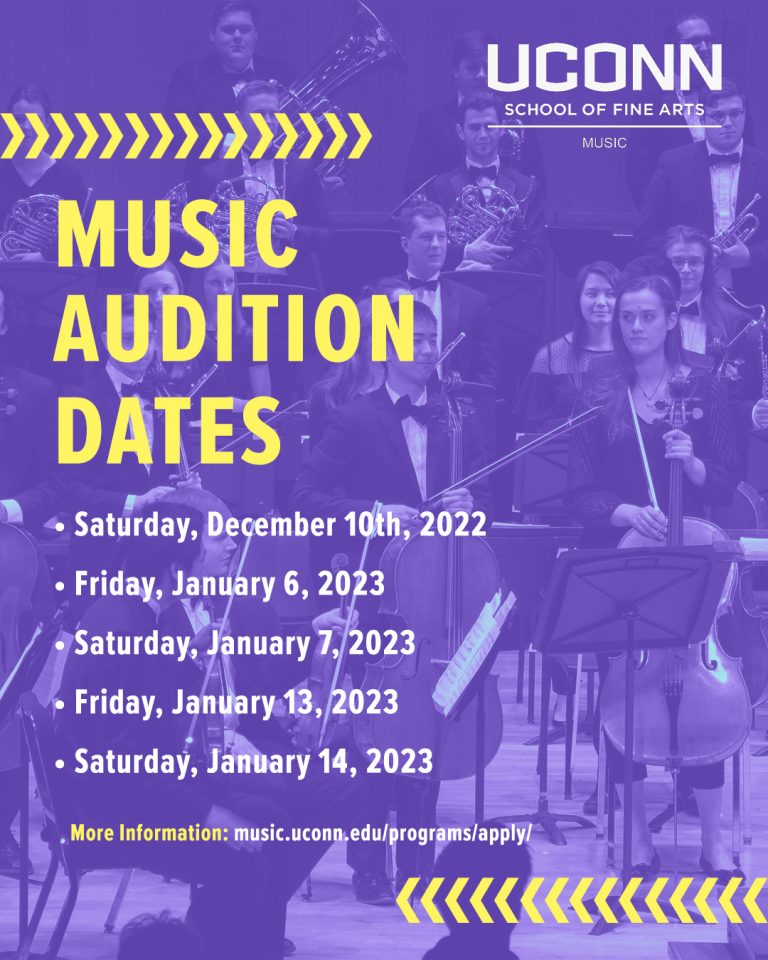 Scholarships
There are various forms of scholarship assistance at UConn; information can be found on the UConn admissions website. The Department of Music also offers scholarship opportunities based on several factors:
Talent — based solely on the student's abilities on his or her respective instrument.
Departmental need — the need of the Department to balance studios and ensembles and to meet the curricular needs of all students.
Specific scholarships — donor wishes to aid players of specific instruments.
All awards are determined on the basis of the above criteria, academic standing, and musical potential.
Note: scholarship students must be enrolled full time during the course of their academic careers, maintain an appropriate grade-point average, and demonstrate timely persistence to graduation.
Graduate Students
All graduate applicants in music must submit a completed application online to the Graduate School of the University of Connecticut. Other information and materials are required by the Department of Music depending upon the particular degree sought by the applicant. Please see http://music.uconn.edu/graduate-handbook/admissions for complete information about all graduate programs and their requirements. To be taken to the Graduate Schools application page, click this link https://grad.uconn.edu/admissions/apply-to-uconn/ .
For audition requirements, please go to Audition Requirements. Please note that if, after review of your completed application, the Admissions Committee for your intended program decides to invite you to audition, you will be contacted by the faculty member chairing that committee to arrange an individual audition time. If you are invited to audition, the live audition is a requirement for admission, even for international students. The general audition dates that appear on the website audition page are for applicants at the *undergraduate* level, not the graduate level. The one exception to this procedure is the Voice area, which does allow graduate applicants to schedule auditions, subject to availability, on the undergraduate audition days.