About
MUSI 1111 section 002 & 006
Tuesday 7:00 p.m. - 9:00 p.m.
The UConn Glee Club is one of the newest performing organizations on campus.  Following in the tradition of  low-voice chorus singing throughout the nation, UConn Glee Club provides service to the university and the state through the singing of the low voice repertoire.  Although singing a Choral Placement Hearing is encouraged, membership in Glee Club is open to any bass or tenor singer enrolled at the university and students from all aspects of campus life are welcome.  UConn Glee Club will celebrate excellence and UConn Husky Pride in all we do.
Joshua East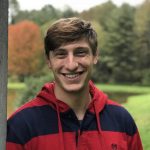 2019-2020 Performances
Fall 2019
UConn Choirs Family Weekend Concert
Sunday, October 13, 2019
3:00 p.m.
von der Mehden Recital Hall
Brothers Sing On!
Saturday, October 12, 2019
4:00 p.m. Concert
von der Mehden Recital Hall
UConn Choirs
Sunday, November 17, 2019
3:00 p.m.
von der Mehden Recital Hall
Spring 2020
UConn Choirs Pre-Tour Concert
Sunday, March 8, 2020
3:00 p.m.
von der Mehden Recital Hall
UConn Choirs
Sunday, April 26, 2020
3:00 p.m.
von der Mehden Recital Hall